Learn about the MULOSIGE project and its aims.
You can read the project description in Arabic, Amharic, French, Spanish, Hindi, Urdu, Oromo, Somali and Tigrinya.
Discover new ways to engage with the pedagogy of multilingual literature through our critical readings, translated poetry and syllabi. 
Explore our events and outreach initiatives to join our discussions around critical and theoretical texts.
Multilingual Locals and Significant Geographies: For a New Approach to World Literature explores the numerous, often fractured, and non-overlapping worlds of literature, and studies world literature from the perspective of multilingual societies. MULOSIGE is a European Research Council-funded research project led by Professor Francesca Orsini, School of Oriental and African Studies (SOAS), University of London.
admin_mulosige
Professor Francesca Orsini is the Principal Investigator of the MULOSIGE project, and leader of the North India case study. She is Professor of Hindi and South Asian Literature, as well as Chair of the CCLPS.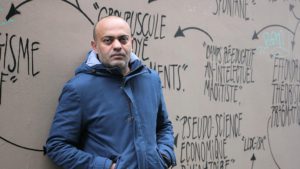 In a guest post for MULOSIGE, Annie Webster explores the contingency of Hassan Blasim's Arabic stories, which impress upon readers the porous boundaries between fact and fiction