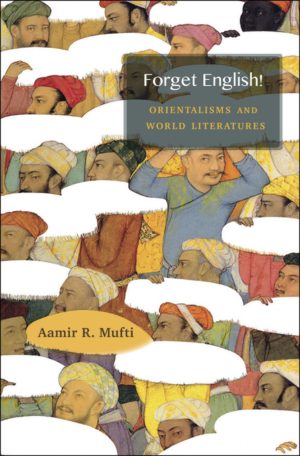 Forget English! Orientalisms and World Literatures
8 February 2017, 5:15 pm

-

7:00 pm
Discussion with Professor Aamir R. Mufti (UCLA) of his book Forget English: Orientalisms and World Literatures (Harvard, 2016).
Discussants: Professor Galin Tihanov (QMUL), Professor Florian Mussgnug (UCL), Dr Karima Laachir (SOAS) and Professor Francesca Orsini (SOAS).
Aamir Mufti's recent book Forget English: Orientalisms and World Literatures (Harvard, 2016) is a powerful and authoritative intervention in the discussion of world literature and the hegemony of English. Pointing to the forgotten genealogy of world literature in the "Oriental Renaissance" (Schwab) in late-18th and 19th century Europe, the book traces English's ascendance to world hegemony and the Orientalist refashioning and "assimilation" of non-European textual world into European categories of literature.
Born and raised in Karachi, Aamir R. Mufti is Professor of Comparative Literature at UCLA. He pursued his doctorate in literature at Columbia under the supervision of Edward Said. He was also trained in anthropology at Columbia and the LSE. A student of the imperial process in the emergence of modern culture and society, he has examined it in a number of domains, including secularism and secularization, minority social formations, nationalisms and statelessness, language conflicts, comparative and world literature, and the globalization of English. Among his books, Enlightenment in the Colony: The Jewish Question and the Crisis of Postcolonial Culture (Princeton, 2007) reconsiders the secularization thesis in a comparative perspective, with a special interest in Islam and modernity in India and the cultural politics of Jewish identity in Western Europe. Forget English! Orientalisms and World Literatures (Harvard, 2016) is the first systematic critique of the concept of world literature from the perspective of non-Western languages. Among current projects are books concerning exile and criticism, the colonial reinvention of Islamic orthodoxy, and the migration crisis of the European project. He is also co-convener of a collaborative project called Rethinking Bandung Humanisms.
The London Intercollegiate Network for Comparative Studies (LINKS), is a collaboration between London institutions involved in teaching and research in comparative literary studies, to promote dialogue and cooperation. Participating institutions include Birkbeck, King's College London, Goldsmiths, Queen Mary, Royal Holloway, SOAS and UCL.
Image credit: book cover of Forget English! Orientalisms and World Literature by publishers Harvard University Press.